Among the many functions offered by Chromecast or Google Assistant, the ambient mode does not get much attention. However, it has a lot of utility, so it is important to know its purpose and compatible devices. In addition, Google also recently updated the ambient mode on YouTube.
Ambient situation why?
This is a function that turns our devices, especially with Chromecast as a monitor or TV, plus in the case of using the Google Assistant it can be a smartphone or tablet, into a personal assistant while charging.
In this way, the device can continue to operate in any area by voice control, as well as display the necessary information on the screen.
This way, if you use the Google Assistant, you can have complete control over the device to comply with commands. Manage reminders, show the weather, activate options like Bluetooth, set alarms, or play music. You can perform more tasks.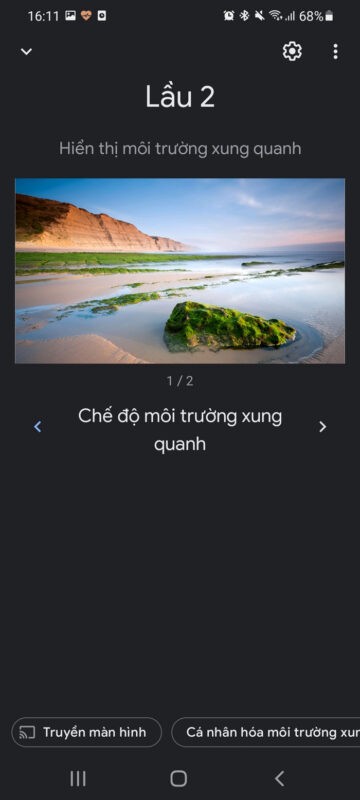 On Chromecast, Ambient Mode gives you a lot of useful information in addition to the background image such as weather, time, device information, etc.
What is Ambient Mode on YouTube?
Ambient mode is basically a lighting effect that surrounds a particular YouTube video with a soft, glowing light that often reflects the pops of color in the video itself.
This kind of effect is similar to the glow of a TV screen in a dimly lit room (which YouTube said was the inspiration for this effect). YouTube also says that Ambient Mode should make the experience of watching videos in dark mode "more immersive." Ambient Mode was officially announced in late October 2022 and is available on the web, Android and iOS.

On the left, before Ambient Mode is enabled, you will notice that the background of the video player is a flat black screen. But on the right, after enabling Ambient Mode, the background of the video player at the top of the screen glows a bright pink/red reflecting the color of the video. It's Ambient Mode: an ambient mode that creates a glowing effect that changes color when playing a video.
How to enable Ambient Mode on YouTube
Ambient mode is only available when YouTube's dark mode is turned on. This means that you need to enable dark mode first. When Dark Theme is enabled, Ambient Mode is automatically enabled.
To enable / disable this mode, in the video you are currently watching, select the gear icon Adjust. Then from the pop-up menu, select Ambient Mode to turn it on and off.

Turning off this feature for one video will likely turn it off for all videos you watch in the future. Thus, if you want Ambient Mode to reappear, you will need to turn it on the same way you turned it off.
How to enable ambient mode on Chromecast
Step 1: From the Google Home interface, tap Chromecast.

Step 2: Choose ambient situation.

Step 3: Here you will have options such as:
Google Images: Show your photo library on TV.
Art gallery: Select to view artwork.
an experience: New content sources that Google is still testing.

weather: Show weather information.
time: Displays the current time.
Device information: Display device name, Wi-Fi name, etc.
Personal photo data: View the metadata of the image archive.
other options…

If you have a Chromecast, you must take advantage of this Ambient Mode feature. In addition, it is also a gradually important feature of Google Assistant.
Digital Experience Editorial Board
I hope the article will help you. The author of the article is glad to receive your feedback on the article shared above. If you have any questions, feel free to leave them in the comments section below. Digital Experience will try to answer as soon as possible.
Related post
Related post