It may be impossible to source a GPU right now, but it's not something to be ignored. You can't possibly build a good gaming PC without adding a graphics card to it. Even the best CPUs require a GPU to allow you to do what you do best — be it gaming, content creation, or any 3D workload. Sure, there are processors with integrated graphics cards but they're not going to yield you the best graphics performance for gaming especially. You can check out our existing collection of the best graphics cards to find out all your available options on the market across different budgets. In this article, we'll specifically be looking at the best Nvidia graphics cards you can buy right now.
Nvidia's at the top of its game in the GPU space. The company has set the bar high with its Ampere generation and is taking that even further with the new Ada Lovelace 40 series. AMD also has a lot of good GPUs on the market, but you can't ever ignore Nvidia. Right now, these are the best they have to offer.
Best graphics card to buy: Nvidia GeForce RTX 3080 10GB
The GeForce RTX 3080 isn't Nvidia's fastest, most powerful graphics card. But on balance, it's the best all-rounder and the one that you should get over all others. Even with the arrival of the RTX 4080, that hasn't changed thanks to the 3080's affordability.
There's GA102 silicon at the heart of the Nvidia RTX 3080 GPU. This is essentially the same chip that powers both the RTX 3080 and the RTX 3090 GPU. The GA102 variant that goes into the RTX 3080 boasts 8,704 Cuda cores. Even though it's less than what you get with the RTX 3090 GPU, it's significantly more than the previous generation. These CUDA cores are arrayed across 68 streaming multiprocessors (SMs). The RTX 3080 has 28.3 bn transistors and we're looking at a GPU boost clock of 1,710MHz.
The Nvidia GeForce RTX 3080 GPU also comes with 10GB of GDDR6X memory, running across an aggregated 320-bit memory interface. The GPU delivers 760GB/s of bandwidth compared, which is significantly higher than the sub-500GB/s bandwidth of the GDDR6 Turing cards that came out earlier. Nvidia's Founders Edition card is rated for 320W, but it tends to peak higher than that under load. Nvidia recommends a 750W PSU for this GPU, although we think stepping up to either an 850W or higher would be more suitable to run a powerful gaming rig.
Nvidia is also using a new custom heatsink for its later Ampere GPUs. It's essentially a dense vapor chamber with direct contact heat pipes. You also get two fans on this GPU and the custom throughflow design allows the GPU to breathe fresh air for better cooling performance. It's recommended that you maintain a proper airflow inside your PC case to avoid any thermal throttling with the RTX 3080.
In terms of performance, the RTX 3080 is easily capable of pushing 4K gaming at 60FPS. It's one of the most powerful GPUs on the market right now. Step up to anything beyond the RTX 3080, and you're only looking at a marginal performance boost for the price. The RTX 3080 is also great for ray-tracing thanks to the 68 RT cores and support for DLSS 2.0. You should try and avoid paying too high a price for one, but it's still an insanely good graphics card and will be for years to come.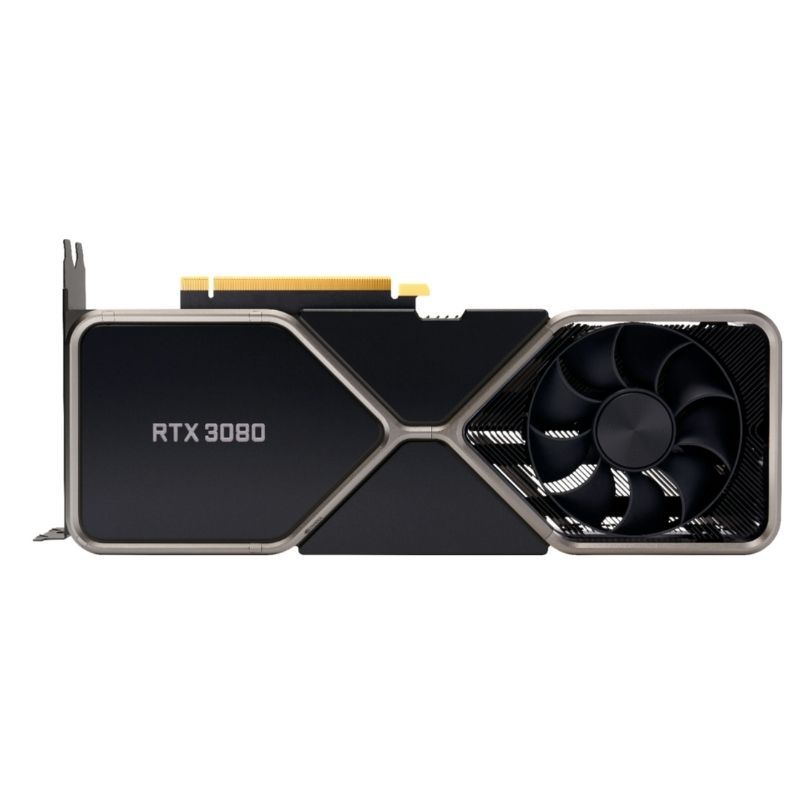 NVIDIA GeForce RTX 3080
The Nvidia GeForce RTX 3080 is one of the best graphics cards on the market. It's powerful enough to run even the most demanding titles out there while streaming simultaneously, and stands up even as the 40 series debuts.
Best graphics card for 4K gaming: Nvidia GeForce RTX 4080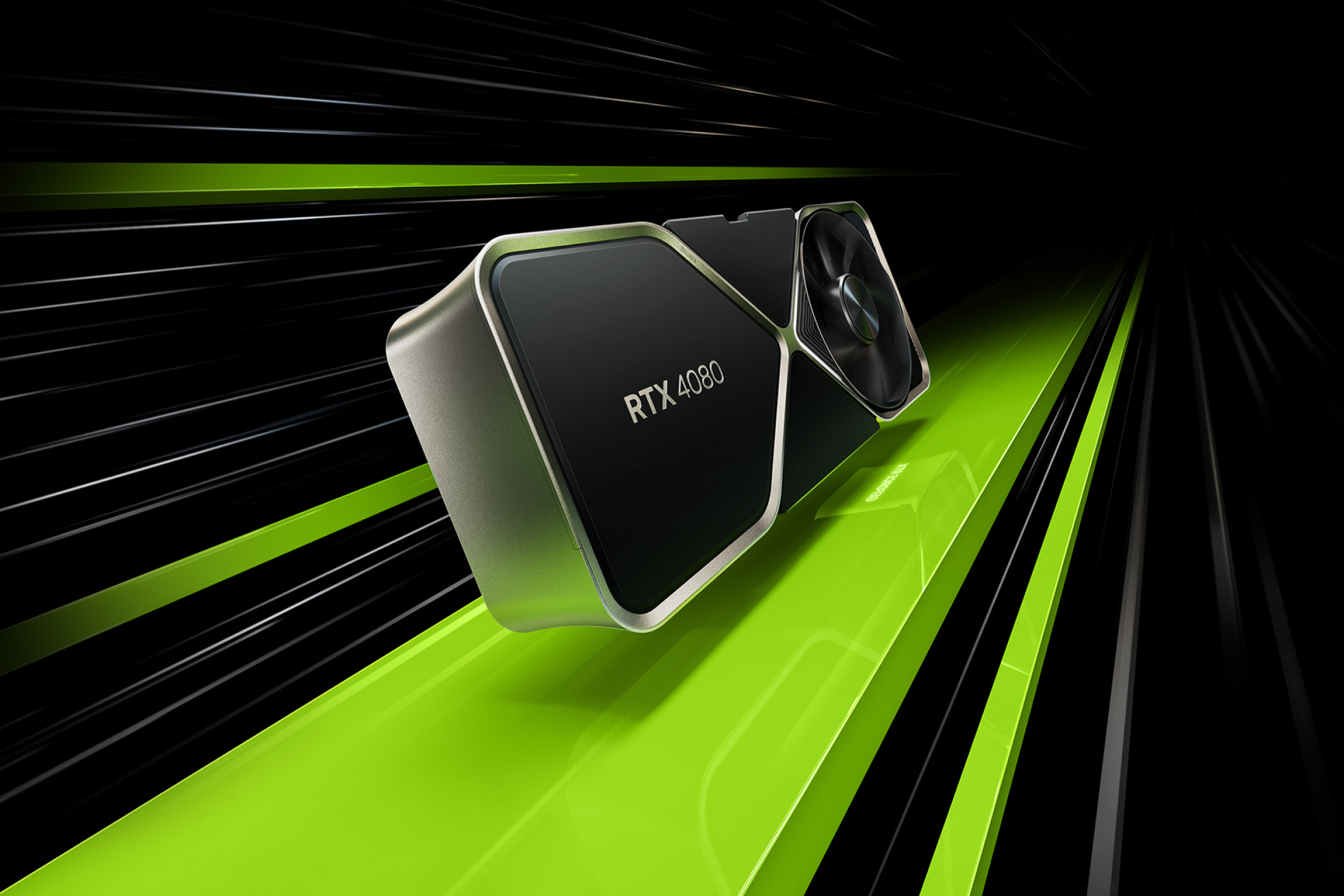 Nvidia's GeForce RTX 4080 is the company's second-best GPU in its latest RTX 40 series. While it is significantly cheaper than the flagship RTX 4090, it's still generally expensive at $1,200. It's not an RTX 3080 replacement but exists in a higher tier.
The RTX 4080 uses the AD103 die, which is used for several of Nvidia's upper midrange and high-end RTX 40 cards. It has 9728 Cuda cores, which is about 6000 less than the RTX 4090 which uses the larger AD102 die. These cores are organized into 76 streaming multiprocessors represent most of the 4080's 46 billion transistors. Despite all the cores, the 4080 is able to maintain a relatively high base clock speed of 2205MHz and boost of 2505MHz. Nvidia recommends a 700 watt PSU in a PC using this GPU, but you might want more than that if you're pairing this with other high-end components.
The 4080 also comes with 16GB of GDDR6X memory, which is the fastest kind of VRAM except for HBM2 (which is usually used on much more expensive GPUs). With a 256-bit wide bus, that gives the 4080 716.8GB/s of bandwidth, which is actually less than that of the RTX 3080 10GB. However, that doesn't mean worse performance; Nvidia has always been very good at improving how efficiency it uses memory bandwidth.
Thanks to new architectural improvements, the RTX 4080 is about 20-30% faster than the RTX 3090 while having about the same amount of cores. It can easily play games at 4K with framerates well above 60FPS even without upscaling technologies like DLSS. Its ray tracing performance is also very good, just like other high-end Nvidia cards. It's price tag prevents it from replacing the RTX 3080 and makes the 4080 difficult to buy, but this GPU is undeniably fast and equipped with modern features.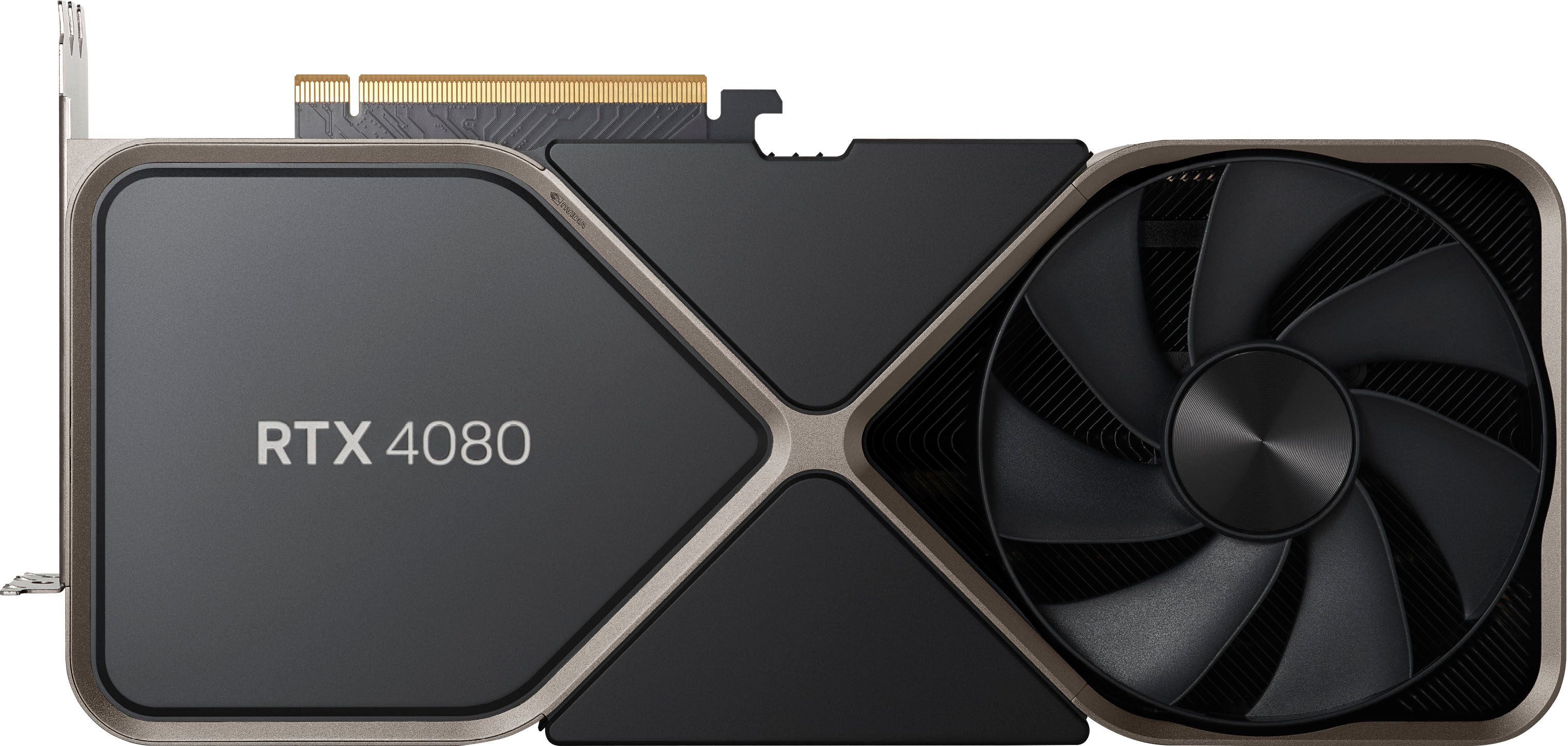 Nvidia GeForce RTX 4080 Founders Edition
The official GeForce RTX 4080 straight from Nvidia.
Extreme performance: Nvidia GeForce RTX 4090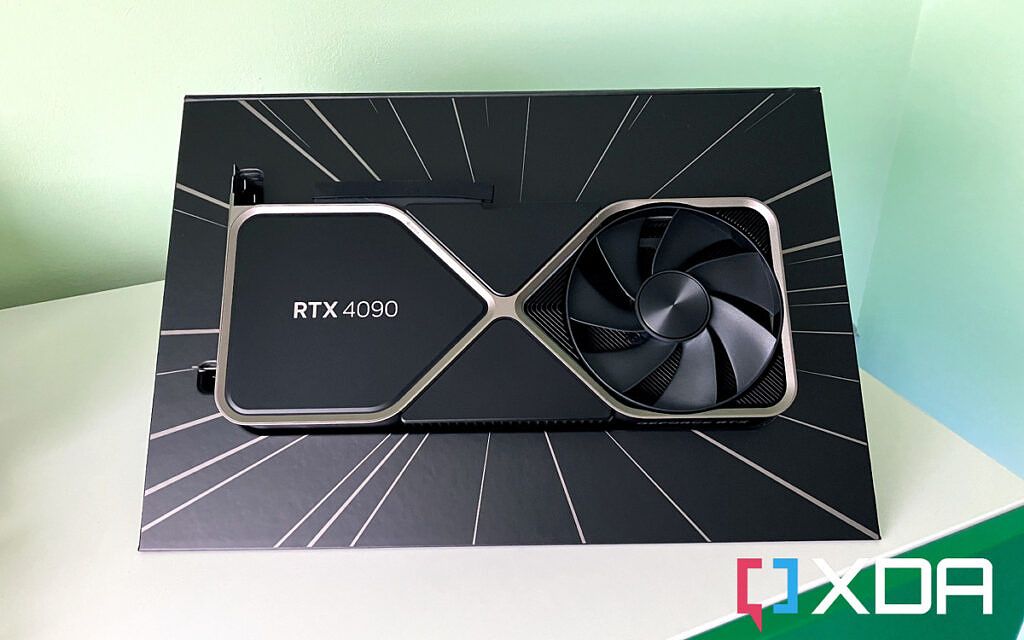 The Nvidia RTX 4090 is the most powerful consumer graphics card money can buy. It represents the best of what Nvidia has to offer and it easily topples everything else on the market when it comes to raw performance. The chances are that you really don't need one of these, especially if you're a gamer. The RTX 4090 is so insanely powerful that neither 4K nor ray tracing in current titles can push it close to its limits. Most of the time it's running in third gear.
The RTX 4090 makes more sense for content creators and those running applications that will benefit from massive GPU acceleration. It's the first Nvidia GPU to come with a hardware AV1 encoder, though the NVENC encoder is no slouch either. For example, using the RTX 4090 with DaVinci Resolve, we managed to encode a 4:30 long 4K60 video at a 40,000 bitrate using NVENC in just 96 seconds. The massive horsepower also means you get no slowdowns scrubbing timelines and applying edits, even without using proxies or lower-resolution timelines. It is unbelievable.
The RTX 4090 is built on Nvidia's new Ada Lovelace architecture and houses the colossal AD102 GPU with 16,382 Cuda cores, 24GB GDDR6X VRAM, a base clock of 2.23 GHz, and Nvidia's 3rd generation ray tracing cores. It's the first Nvidia GPU to support DLSS 3.0, too, and has HDMI 2.1 outputs on the back. DisplayPort is limited to 1.4, which is fine for now, and it runs off a PCIe 4 x16 slot on your motherboard. It's rated at 450w TGP, so it's thirsty and uses the new 12VHPWR power connector. This is better in the long run because a single cable from an ATX 3.0 power supply will be sufficient (capable of delivering up to 600W) but for now, Nvidia includes a rather necessary, but still unfortunate adapter in the box. You'll need a minimum 850W power supply, though we'd recommend at least 1000W to give yourself some headroom.
This goliath is physically massive, too. The Founders Edition is probably the smallest of them all, but even so, it consumes three PCIe slots and will fill out a mid-tower case with ease. Third-party cards are even larger, some comically so. The actual PCB isn't particularly big, but the amount of heatsink and accompanying fans to cool it is extraordinary. It does mean you need to be a bit careful with your PC design, though, if you're wanting one of these.
All told, the Nvidia RTX 4090 quite probably isn't for you. It's overkill for gaming and right now at least makes the most sense for professional work and content creation. It's also going to cost at least $1,600 to get one. Everything about the RTX 4090 is large, but it's undeniably impressive. There simply isn't anything that can compete with this right now.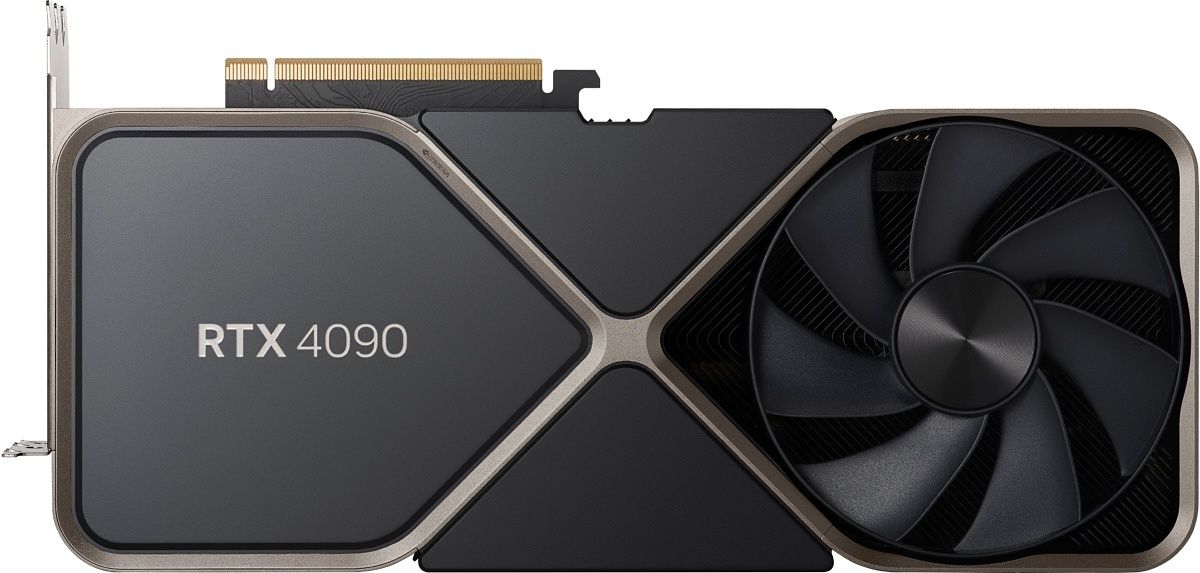 Nvidia RTX 4090 Founders Edition
The undisputed heavyweight champion of consumer graphics cards, nothing else comes close to the RTX 4090
Best graphics card for 1440p gaming: Nvidia GeForce RTX 3070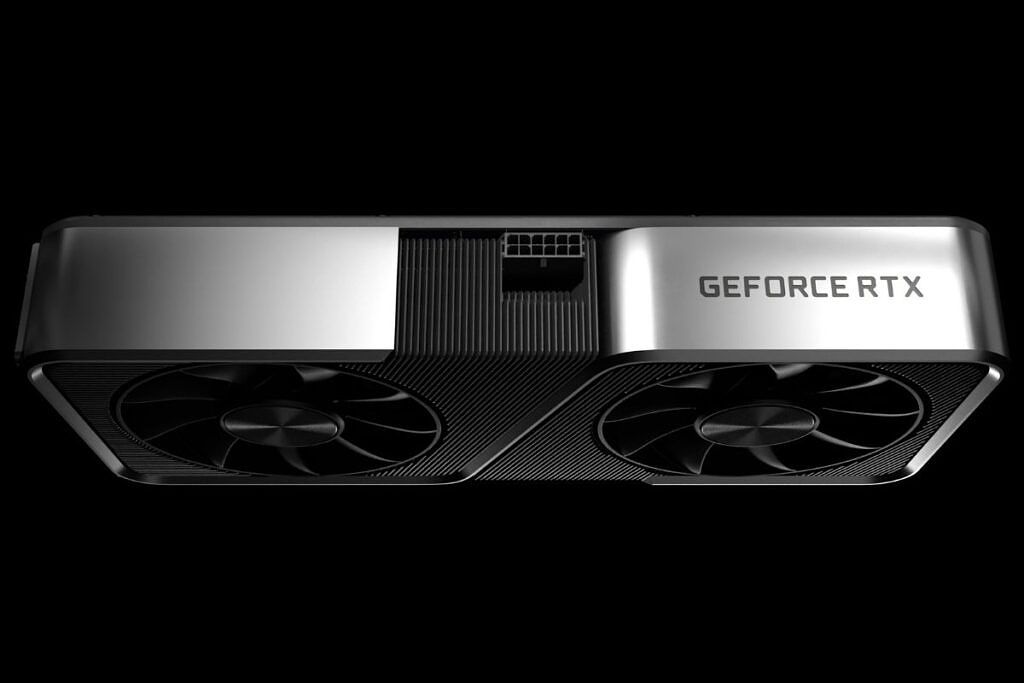 The RTX 3070 is our pick for the best 1440p graphics card in 2021 from the house of Nvidia. This graphics card sits pretty much in the middle of the 30-series line up and now that prices have begun to settle it's extremely attractive once again.
The RTX 3070 uses GA104 silicon with 17.4 billion transistors and 46 SMs. It packs 5,888 GPU cores, 184 Tensor cores, and 46 RT cores for ray tracing. Yes, it also supports ray tracing and it's quite reliable at that even at 1440p. Of course, DLSS 2.0 also plays a huge role but the ray-tracing performance of Nvidia cards has generally been better than anything that AMD has to offer. The RTX 3070 boasts a base clock of 1500Mhz and a boost clock of 1725Mhz. This GPU packs 8GB of VRAM over a 256-bit memory bus for a memory bandwidth of 512GB/s. The RTX 3070 is rated for 220W power, so we think even a 750W PSU should be plenty to push a PC involving an RTX 3070 GPU.
The RTX 3070 GPU is great for 1440p gaming with high frame rates. There are fewer compromises than with a 3060 or 3060 Ti, so you can just max the settings and leave it at that. RTX 3070 is also proven to deliver 4k gaming, but it's not what you should buy one for. Like other Nvidia GPUs, the RTX 3070 also has applications for professional work and content creation. It has a lot of compute power and the NVENC encoder is a streamer's best friend.
Unfortunately like the rest of the 30-series, there are newer options on the way. There isn't a direct replacement for the RTX 3070 just yet, though many would argue the RTX 4070 Ti is just that. The RTX 3070 is still worth buying and will be good for many years to come, but you should also ensure not to pay too much for one with newer hardware coming very soon.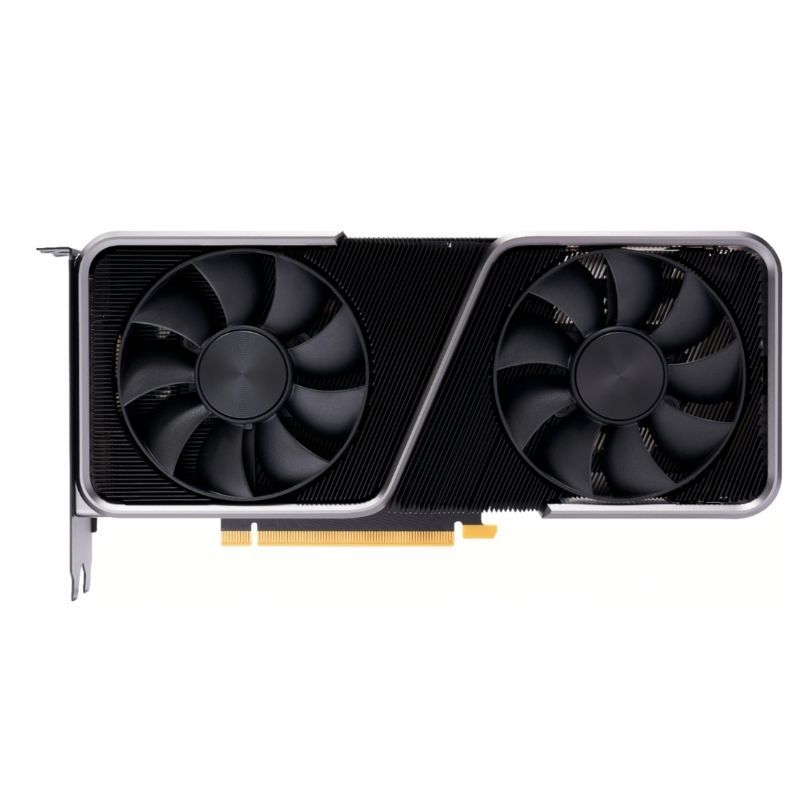 NVIDIA GeForce RTX 3070
The Nvidia GeForce RTX 3070 may not be the most powerful 30-series GPU out there, but it offers impressive performance for the price.
Best graphics card for 1080p gaming: Nvidia GeForce RTX 3060 Ti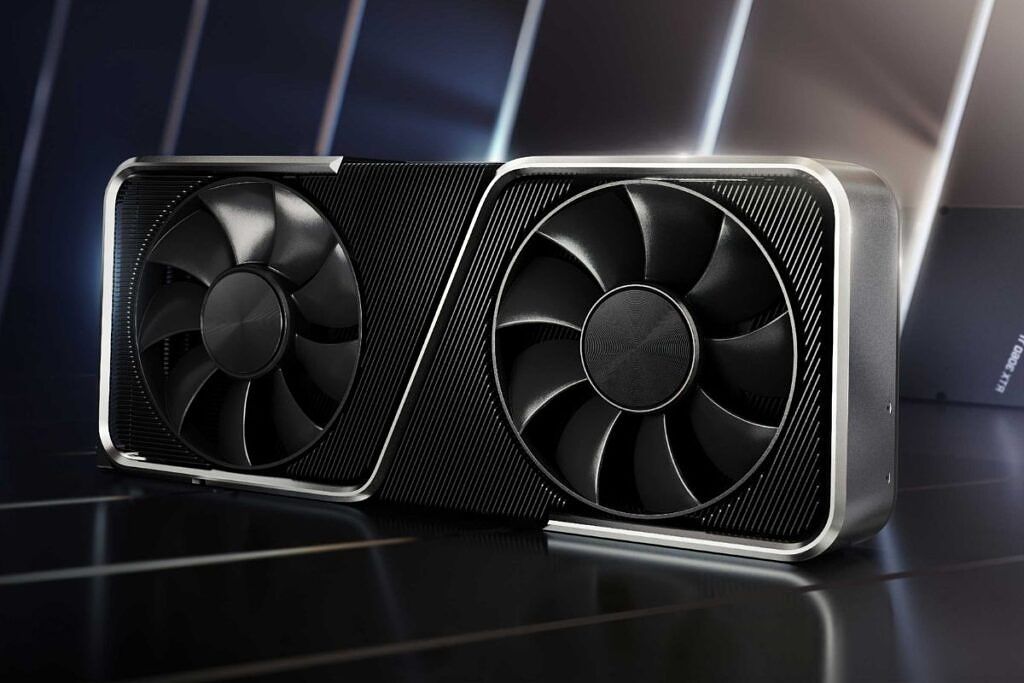 The Nvidia GeForce RTX 3060 Ti is what we would call the best graphics card for most users out there. Why? Because most people still stick to 1080p gaming. Sure, 1440p gaming is well within the reach of this card but 1080p is how most still go. The RTX 3060 Ti is currently the best Nvidia GPU you can buy if this is your target and you want your frame rates to absolutely rip.
The Nvidia GeForce RTX 3060 Ti is based on the Ampere architecture. It brings 8GB GDDR6 VRAM paired with 38 Ampere Streaming Multiprocessors (SM). It packs 4,864 CUDA cores, up from the 2,176 found in the RTX 2060 Super. Power consumption has naturally seen an uptick too. The RTX 3060 Ti is now rated for 200W, up from the 175W of the RTX 2060 Super from the previous generation. It's definitely an increase, but it's not a significant increase to warrant a PSU upgrade.
The GeForce RTX 3060 Ti also comes with Tensor Cores for AI workloads like DLSS and more. It also has dedicated RT cores for ray tracing. The 3060 Ti offers reliable ray-tracing performance at 1080p, making it an excellent option for a no-compromise gaming experience. RT performance 1440p becomes a little bit of a stretch for this GPU, which is why we recommend sticking to 1080p with the 3060 Ti.
The RTX 3060 Ti Founders Edition GPU is identical to the RTX 3070 FE. They also share the same dimensions, with the same amount of exposed fins and the same amount of fans. Third-party cards from partner OEMs will have different designs, but the overall performance is going to be more or less the same. If anything, partner cards may be slightly better due to the more efficient thermal solution. We've seen some crazy designs from OEMs, so be sure to look around before picking up a card.
In terms of pricing, now the market has settled you can grab one for around $400. This makes it well worth picking up, especially compared to alternatives from AMD and Intel's slightly less expensive offerings. It outperforms both and is worth a slight premium. It's also a solid shout for content creation purposes, with hardware NVENC encoding. Even though it won't get AV1, NVENC is a good alternative.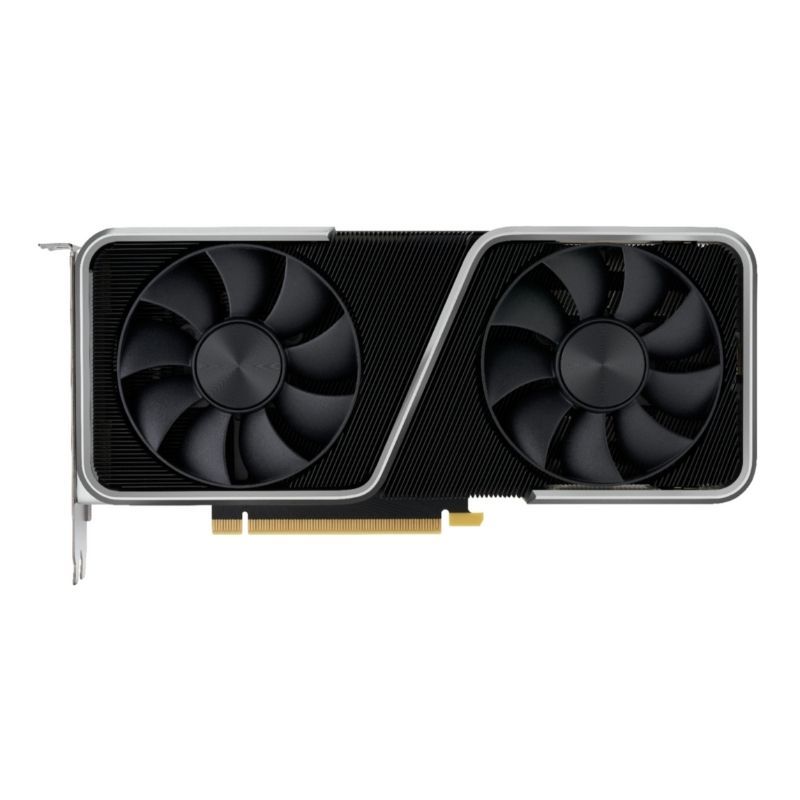 NVIDIA GeForce RTX 3060 Ti
The RTX 3060 Ti can handle both 1080p as well as 1440p gaming very well. It's the best 30-series GPU for most people that want something better than an RTX 3050.
Best entry-level graphics card: Nvidia GeForce GTX 1660 Super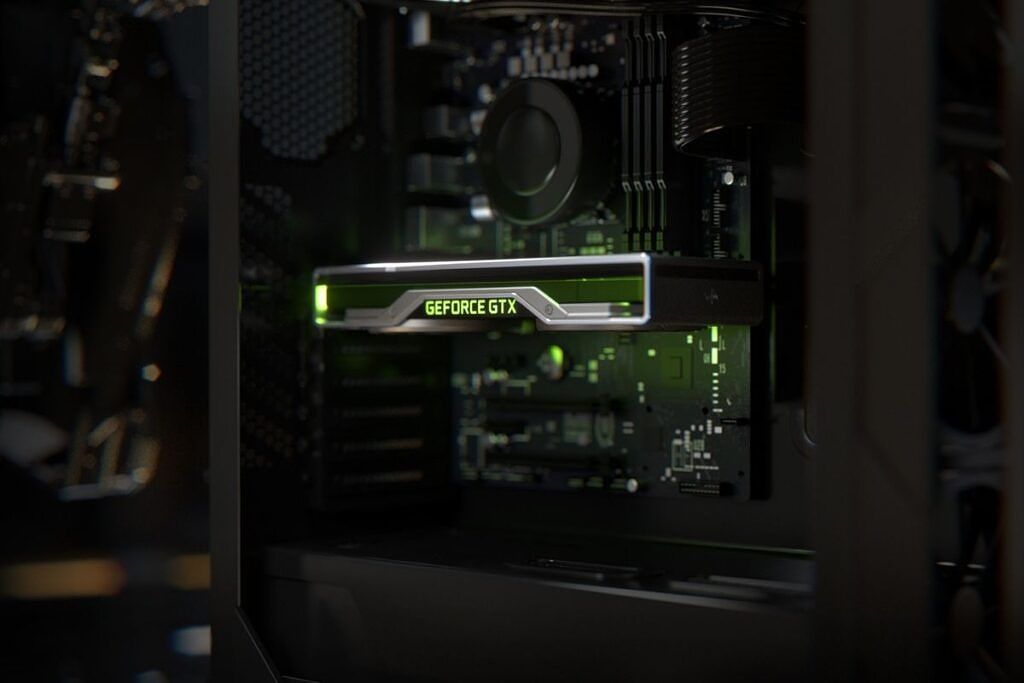 If you're building a budget gaming PC then you're not going to be thinking too much about ray tracing or 4K or maxing out your graphics settings. But that doesn't mean you have to compromise on having a good experience. Nvidia's GTX lineup lives on with the 1660 Super, a graphics card without any of the ray tracing goodies you find on the more expensive RTX units. Note that you want the GTX 1660 Super, not the regular 1660, with this version offering added performance you don't want to miss out on.
The GTX 1660 Super should serve you well with its reliable 1080p gaming performance. It's also a fantastic option for those looking to get started with Esports titles like CS:GO, LoL, Valorant, and more. The GTX 1660 Super is based on the older Turing architecture. It comes with a base clock of 1,530MHz and a boost clock of up to 1,785MHz. You only get 6GB GDDR5 VRAM, but it should be plenty to run the kind of games it supports. It's also using the older GDDR5 VRAM type, helping to make it more affordable than the newer GPUs with GDDR6 memory. The GTX 1660 Super carries a 192-bit memory interface to offer total memory bandwidth of 336GB/s.
It is also worth pointing out that Nvidia doesn't sell a Founders Edition variant for this GPU. You'll have to rely on the partner cards, which may be more expensive depending on the kind of specs and heatsink we're looking at. One of the main reasons why we recommend buying the GTX 1660 Super is that it's affordable and compact and it delivers where it matters. It's significantly better than integrated graphics, and it even undercuts Intel's new Arc GPUs on price, even though it's not quite as powerful. It's a perfect starter card if you're just trying to keep your budget to a minimum.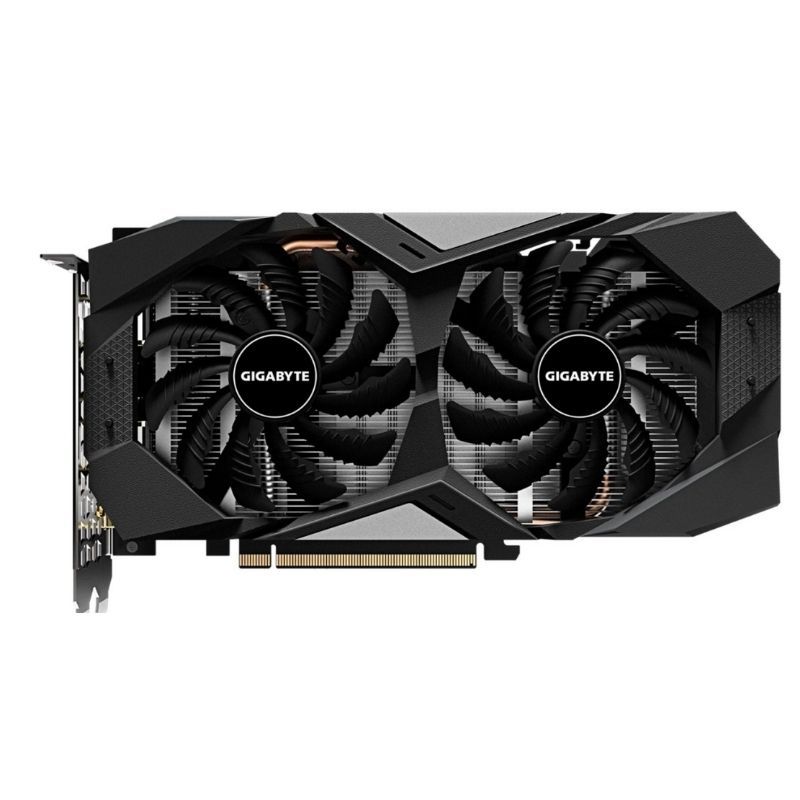 NVIDIA GTX 1660 Super
A little older but still a good value choice for lighter, esports focused titles such as Valorant, CS:GO and Rocket League.
Best Nvidia graphics card to buy in 2023: Final Thoughts
The GeForce RTX 3080 is the best graphics card you can buy right now, even if its time at the top is over. You can also step up to 4080 if you want performance that's similar to the RTX 3090 without going all out. Those leaning towards 1440p gaming can easily rely on the RTX 3070, while the RTX 3060 Ti is a great option for 1080p gaming right now.
Nvidia rarely sits still though and with the RTX 4090 and the rest of the 40 series looming large, things are getting exciting for PC gamers. The RTX 4090 is untouchable if you're looking for the most powerful consumer GPU money can buy, with applications for gamers, content creators, and professionals looking for massive compute power and machine learning capabilities.
We also recommend you check out our collection of the best motherboards or even the best CPU coolers including the ones for the new LGA 1700 socket CPUs. You can also consider joining our XDA Computing Forums to have discussions with fellow PC builders to get more product recommendations for your build.